Tone & Tighten with Trilift - Syracuse, NY
Modern, Non-Invasive Face Lift
---
For Fayetteville, Syracuse, NY & Beyond
---
Are you looking for ways to reverse signs of facial aging in the Syracuse and Fayetteville, NY areas? Are you dissatisfied with the visible signs of aging on your face? Whether you are concerned about sagging skin, deep wrinkles, loss of facial volume, and more, there are a variety of face lift options on the market. These procedures aim at rejuvenating the face and reducing the visible signs of aging. Depending on the procedures you can tighten facial muscles, remove excess skin, and reposition the skin to create a refreshed appearance. Not only will this increase your confidence but it will boost your self-esteem as well.
At Definitive Beauty, we offer the TriLift procedure for qualified patients. TriLift is the only device available on the market that gives you a non-invasive facelift with no pain and no downtime, giving you a younger version of yourself. Definitive Beauty is the first in Upstate New York to bring clients a device that addresses all three layers of facial aging. If you're interested in learning more about this facelift procedure or to book an appointment, please feel free to contact our salon in Fayetteville, NY!
Reawaken Your Natural Beauty​​
TriLift is a non-invasive treatment that is designed to achieve an effect similar to a facelift, but without surgery! TriLift is the first treatment to use Dynamic Muscle Stimulation in sequence with two other technologies to tone healthy muscles, reduce facial wrinkles, smooth, and resurface the skin, achieving incredible results quickly.
Tone healthy muscle
Reduce facial wrinkles
Smooth and resurface the skin
Trilift Is Made Up Of 3 Services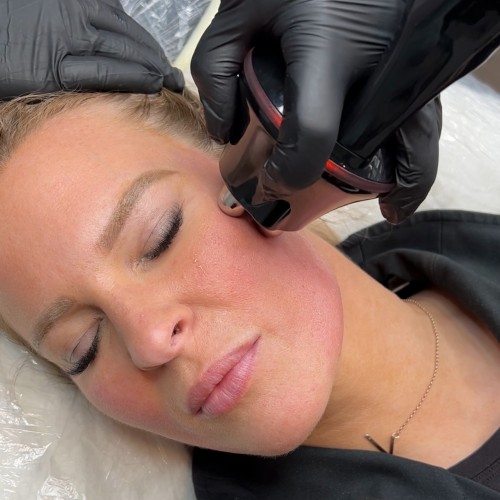 Dynamic Muscle Stimulation
As we age, our facial muscles weaken over time, reducing elasticity and firmness. Dynamic Muscle Stimulation activates the facial muscles safely and effectively with electrical stimulation to cause the muscles to expand and contract. The results are lifted and toned muscles, reduced wrinkles, and a smoother surface of the skin, achieving an effect similar to a facelift – but without surgery!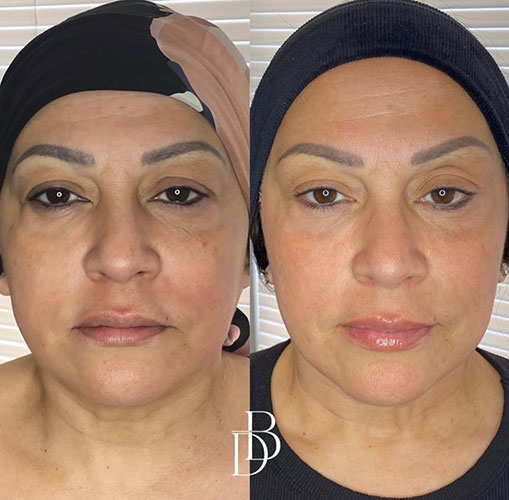 Radio Frequency
RF energy heats the underlying layers of skin, causing constriction and tightening of the skin, as well as increased stimulation of collagen and elastin production and generation of new and healthy skin.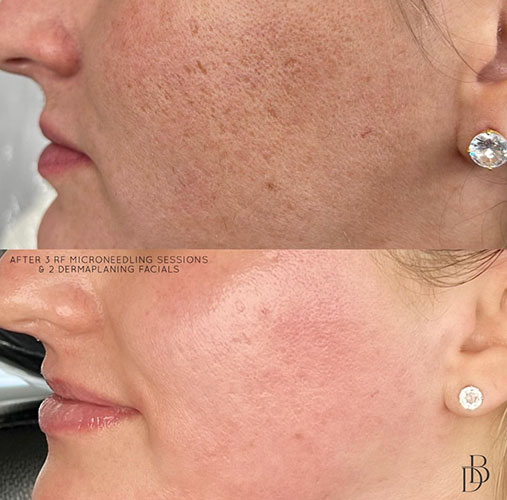 RF Microneedling
No Numbing, No Pain, Minimal Downtime – Our skin thins over time as we age. The RF Microneedling component of TriLift combines radio frequency energy with microneedling to rejuvenate the skin by stimulating natural production of collagen and elastin, tightening the skin and improving texture. The RF energy penetrates deeply, producing faster and more dramatic results than traditional microneedling.
Frequently Asked Questions About TriLift
Why TriLift?
If you feel your facial features, shape, and youthful appearance are not what they used to be, TriLift may be able to address several of your concerns in a single treatment. Facial muscles, like all muscles, lose tone and mass as we age. These muscles have a direct effect on our facial definition and appearance.
When will I see results?
You should expect to see and feel a natural-looking improvement immediately after your very first treatment. For the best and longer lasting results, a course of 4-6 treatments that are done once a week or every two weeks is highly recommended.
What can I expect after treatment?
You may experience some redness or minimal swelling depending on the course of treatment created for you. This may last anywhere from a couple of hours to a few days.
How does it work?
With age, the skin starts to sag, showing lines and wrinkles, as well as our fat pads dwindling, which is causing facial depressions, and the muscles weaken and contribute to the sagging appearance, an unbalanced look, and distorted jawline or "double chin."
TriLift targets and stimulates the natural process that tones the muscle with dynamic in motion muscle stimulation. This thickens and strengthens the dermal layer of your skin, increasing natural volume, and evening out skin texture.
RF Microneedling - Pain free, no numbing needed
TriLift1

TriLift2

TriLift3

TriLift4

TriLift5

TriLift6

TriLift7

TriLift8

TriLift9

TriLift10

TriLift11

TriLift12

TriLift13

TriLift14

TriLift15