Lip Blushing Procedure
for Clients in Fayetteville, Syracuse, NY & the Surrounding Areas
Add color and get fuller, more symmetrical looking lips with lip blushing. With lip blushing, you won't have to spend time each morning applying fresh makeup.
Improve your appearance, and your confidence with lip blushing from Definitive Beauty. Based in Fayetteville, NY, we welcome clients across the Syracuse, NY area to contact us or book an appointment online today!
"She explained the procedure very thoroughly and frequently asked how I was doing during lip blushing. I love my lips and cannot wait to return for my touch up! I've had so many compliments on them!"
Lip Blushing is a great way to enhance your natural lips. Lip Blush is a cosmetic tattoo that can be used to balance symmetry, increase the appearance of the lip size, camouflage scars on the lip tissue, change the color of the lips, and create a more youthful lip appearance. Lip Blush can be a subtle natural looking enhancement or more defined to achieve a lipstick look. This service includes consultation, facial-mapping, Lip Blush process, and aftercare.
"Had lip blushing done and Angela is amazing! 10/10 would recommend to anyone considering permanent make-up."
Expedited (VIP) Lip Blushing
This service is for those who want their lips done ASAP & don't want to wait for a later time in the schedule. You must call/text (315) 870-8787 after booking this service so the appointment can be moved to a day off or after hours.
$200 non refundable booking fee.
$500 due at first session.
$100 due at 6-8 week touch up.
$800 total to complete sessions.
Skip the line & get your lips today!
6-8 Week Lip Blushing Touch Up
The Touch-Up session is a follow up to your Lip Blushing service. This session is essential to add or refresh any areas that healed too lightly, ensuring your new lips will last looking even and full. Touch Ups must be booked between your 6-8 week mark and are only reserved for current Definitive Beauty clients.
Periodic Lip Blushing Touch Up
The Periodic Touch Up session is necessary every 1 to 3 years to freshen up your lips by adding to faded pigment and enhancing shape. This lip blushing service is reserved for those who have previously had full appointments with Definitive Beauty.
Lips big or small, we blush them all.
What to Expect at Your Lip Blushing Appointment
Medical grade topical anesthetic cream is used before and during your lip blushing procedure to ensure as pain free of a process as possible.
On the day of your lip blushing procedure, your lips will look more like lipstick after. This will soften as your lips heal, developing in to a more subtle, natural looking lip tint.
After your first session and touch up, results last for 2 – 3 years for most people. Additional touch ups may be required depending on the look you want.
All lip blushing consults are complimentary and can be done in person or over the phone. Pricing includes initial appointment AND 6-8 week touch up appointment for all permanent makeup services.
$650 total to complete sessions.
$550 total to complete sessions.
All appointments require a $100.00 non-refundable booking fee, and pricing is split up between the booking fee, initial session, and 6-8 week touch up.
Apply a little gloss or balm and your lips are ready to turn some heads!
Before You Arrive to Your Lip Blushing Appointment
Lip Blushing Aftercare Instructions
You will receive all of the aftercare products and instructions to care for your new lips at your appointment!
Avoid getting the lip area wet. When taking a shower or brushing your teeth you will apply the balm given to you to act as a barrier.
No using exfoliants or chemical peels on the lip area (retin-A, glycolic/alpha-hydroxy acids, exfoliating scrubs, etc.) until lips are completely healed.
No steam rooms, saunas, long steamy showers, hot tubs, or swimming.
No cleansers, creams, or makeup in or around the lip area.
Avoid sleeping on your face as much as possible; especially the first two nights.
Never pick, peel, or scratch the lip area. Picking and scratching may cause scarring and/or removal of the pigment.
Minimize exposure to direct sunlight.
Avoid sweaty workouts for the first 5-7 days. Any perspiration within the first 7 days of the healing process could result in loss of pigment.
Do not wax or thread the area for at least 7 days.
Avoid dusty environments or any task where your lip area could be exposed to excessive dust, dirt, or dander.
Days 1 – 3: Lips may be tender and feel tight. Your lips will look more vibrant on days 1-2 and begin to slowly fade away. 
Days 3 – 7: The lip area may begin to flake and fade. The flakes almost look like dandruff or dry skin, it is important that you do not pick, peel, scratch, or touch the lip area. Some clients don't get any flaking, it depends on how well you follow the aftercare and your skin type. The pigment is also going to start to appear lighter as if it is fading too much, this is completely normal.
Days 10 – 21: The pigment will start to look like it has completely disappeared and within 21 days your skin will rejuvenate the healed pigment back out and prepare you for your 6-8 week touch up.
To retain the color of your new lips, you should always apply SPF to the area when exposed to the sun. Direct sunlight can cause pigment to fade prematurely.
Avoid the use of exfoliants or chemical peels on the lip area (retin-A, glycolic/alpha-hydroxy acids, exfoliating scrubs, etc.).
If you follow these instructions carefully you should expect to see beautiful, polished results that you will love for the next 1 to 3 years!
Angela is Here to Answer Any of Your Questions About Lip Blushing
Angela is the only board certified permanent makeup artist near Syracuse, NY. Complimentary consultations are available in person or over the phone.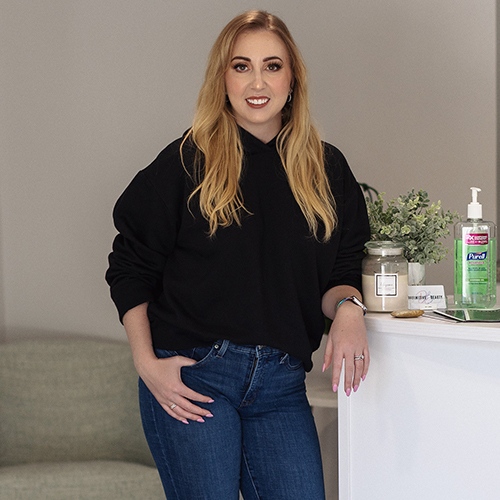 Frequently Asked Questions About Lip Blushing