Banish Stretch Marks & Rediscover Confidence.
Inkless Stretch Mark Rejuvenation
---
For Clients in Fayetteville, Syracuse, NY & the Surrounding Areas
---
Definitive Beauty is the first and ONLY to Offer This in Upstate and Central NY
What Causes Stretch Marks?
Growth spurts that happen during puberty
Pregnancy
Rapid weight loss or gain
Weight training involving rapid muscle growth
Extreme stress
Steroid prescriptions
Stretch1

Stretch2

Stretch3

Stretch4

Stretch5

Stretch6

Stretch7

Stretch8

Stretch9

Stretch10
How does the Inkless Stretch Mark Rejuvenation Work?
Embrace your body's natural transformation with our Inkless Stretch Mark Rejuvenation. Using gentle, non-invasive techniques, we help reduce the appearance of stretch marks. We do this by depositing a mixture of medical grade serums and natural oils to stimulate your body's production of collagen and elastin to flatten, smooth and shrink any stretch marks. This in turn helps restore the color and improve the texture. Since we allow your skin to do all the work, the results are permanent. In a single session you can see a 35% to 90% improvement. Typically 1-3 sessions are needed for ideal results.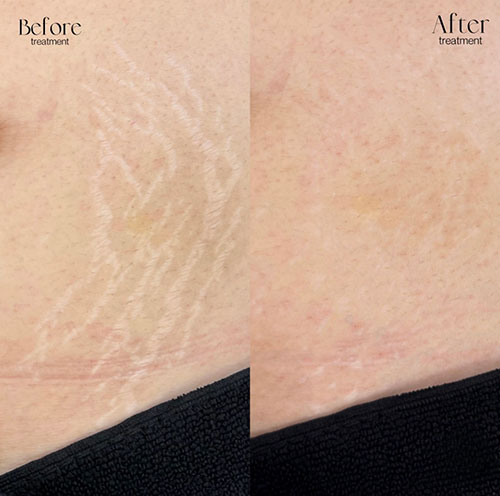 Is the Inkless Treatment Suitable for Anyone?
At Definitive Beauty, our stretch mark rejuvenation treatments are suitable for all different skin tones, ethnicities, and ages. If you're interested in learning more about this procedure or if you'd like to schedule an appointment, we welcome you to contact our beauty salon today! We're proud to welcome new and existing clients throughout Fayetteville, Syracuse, NY, and the surrounding areas.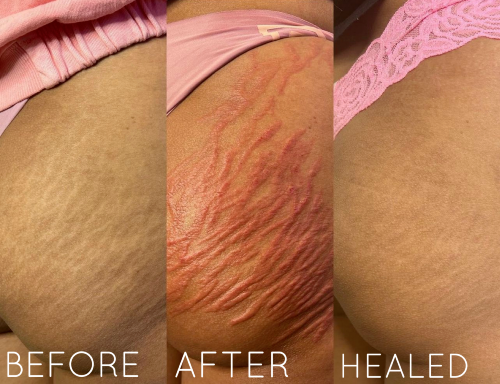 What to Expect After Treatment?
Great news is that there is no downtime after this treatment. Clients can resume normal day-to-day activities and work right after. Immediately after the treatment, however, we advise not to expose the treated area to water for 12 hours and not to work out until 2 days after your treatment. Your treated stretch marks will be red immediately after the treatment and it usually takes 2 to 6 weeks for the treated stretch marks to heal. Please note that during the healing period, your stretch marks will go from red to dark brown before fading into your skin.
Looking for an Express Treatment?
Angela and Samantha are both licensed in Inkless Stretch Mark Repair, so you can have the duo work on you together to get you in and out of your appointment or work on multiple areas at once. Please call or text us at (315) 870-8787 to schedule an express treatment. Cost will vary.
Before You Arrive at Your Inkless Stretch Mark Rejuvenation Appointment
Day of the procedure
No shaving the day of the procedure to avoid skin irritation to the area being treated.
If there is dense hair present in the treatment area, closely shave the area before you arrive to your appointment.
Wear loose-fitting clothing
No lotion or perfume on the area to be treated area
One day before the procedure
Avoid caffeine 24 hours prior to the appointment.
Two days before the procedures
Do not take any anti-inflammatory medications such as ibuprofen, Motrin or Advil for 48 hours prior to treatment.

These agents will interfere with the natural inflammatory process that is critical and responsible for your skin rejuvenation.

Avoid blood-thinning agents (aspirin, fish oil, Omega-3, Vitamin E) for 48 hours prior.
Starting two weeks before the procedure
Avoidance of IPL/Laser procedures, unprotected sun exposure or sunburn.

We want to prevent a sunburn. We cannot work on burned, irritated skin.
6-12 months before procedure
Refrain from using Accutane
Inkless Stretch Mark Rejuvenation Aftercare
Immediately after treatment your stretch marks will have redness, swelling, and look angry for about 2 weeks; this is normal.
For the first 10 days
Avoid wearing tight clothing for the next 2-3 days in treated area.
Avoid scratching or peeling to prevent infection or discoloration.
Avoid excessive sweating for 7 days. Moderate exercise is fine after 2 days of the treatment.
Avoid exposing the area to the full water pressure of the shower for 7 days.
Avoid perfume and deodorant near or in the treated area.
For the first 30 - 40 days
Avoid tanning and swimming (beach, pool, Jacuzzi, bath, etc.) for 30 days.
Avoid sunscreen, self-tanning or any cream that contains vitamin D for 40 days.
What to expect during the healing process
Days 1 – 4: Do not take Advil after the procedure (next 24 hours). Redness, swelling, tightness, feeling of being sunburned is a normal reaction.
Avoid all things hot: sauna, hot tub, sweating, etc. You can shower 12 hours after procedure. Use the given cleanser to cleanse the area. Do not rub aggressively Apply aftercare 2 times a day or as required to keep area hydrated.
Days 3 – 10: Area will become dry, flakey and possibly a small amount of scabbing (DO NOT PICK). Apply aftercare 2 times a day or as needed.
ALWAYS USE SUNSCREEN WHEN THE TREATED AREAS ARE EXPOSED TO THE SUN!
Week One: The skin may be dry and flaky and angry looking.
Week Two: The skin will be less angry, less swollen, and a little more flat.
After Two Weeks: Even though you may still be seeing your skin returning to normal it's not uncommon to see redness and/or hyperpigmentation. This is the color of your skin turning tan or white, all completely normal.
Frequently Asked Questions
What happen if I tan?
You can come in with a tan, and tan once fully healed; this will not effect the results. I do ask that you refrain from direct sun exposure in the treated area for 30 days. If you must expose the area to the sun during healing, you MUST WEAR SPF. After healing, the Inkless treatment allows the skin to restore the color to the skin naturally. Therefore, when the surrounding skin becomes tan, so will the stretch marks.
How many sessions will I need?
You can see a 20-80% improvement in the appearance of the stretch marks in just one session. Typically, 1-3 sessions are recommended. The remaining number of sessions will depend on the results of the previous session. At this point you can determine whether more treatments are needed for you.
How often are the sessions?
Sessions are done every 6-12 weeks depending on your healing process. We will be checking in and asking for photos along the way.
Is it painful?
Our clients have said the pain level is a 2-4 out of 10. This can vary with different areas of the body.
Is a consultation needed?
Consults are not needed, but preferred for this treatment, as it is a great way for us to go over the process with you. Consults can be done by texting us photos of the area, coming in, or giving us a call to talk further.
How soon after pregnancy can I make an appointment?
If you're planning to breastfeed you MUST wait until you're finished. If you're NOT planning to breastfeed, the stretch marks must be 3 months or older, and you need to be cleared by your doctor. If you're not cleared by your doctor, you must wait until the stretch marks are 9 months old.
If my stretch marks are older can I still get this done?
YES! This works for all ages of stretch marks and skin types.