Professional Teeth Whitening
for Clients in Fayetteville, Syracuse, NY & the Surrounding Areas
Smile with confidence. At Definitive Beauty, we offer professional teeth whitening to clients in Fayetteville, Syracuse, NY, and the surrounding areas. Our owner, Angela, is licensed in the dental field with 8 years of professional experience. She is proud to offer natural, FDA approved teeth whitening to each our clients.
For more information about the teeth whitening procedure or to schedule a complimentary consultation, we encourage you to contact us today!

"Professional teeth whitening: excellent experience, highly recommend if you are looking for this service! "
Professional Teeth Whitening
Angela has been licensed in the Dental Field for 8 years and offers all natural, FDA approved, and little to no sensitivity cosmetic Teeth Whitening.
$50 non refundable booking fee.
$150 due at first session.
$200 Total
With Teeth Whitening, Walk out with an instantly brighter smile!
Expedited (VIP) Teeth Whitening
This service is for those who want their teeth whitening done ASAP & don't want to wait for a later time in the schedule. You must call/text (315) 870-8787 after booking this service so the appointment can be moved to a day off or after hours.
How Much Does Teeth Whitening Cost?
$150 non refundable booking fee.
$150 due at time of session.
$300 Total
Whiten and brighten your teeth today!
With Teeth Whitening near Syracuse NY, Get a Beautiful, Clean Look
Enamel on teeth wears down over time due to aging as well as acidic foods and drinks, causing discoloring that can range from an off white tinge to an almost yellow appearance. Teeth whitening changes the color of tooth enamel, providing a clean look and natural, attractive white teeth.
With cosmetic teeth whitening, you can be confident when taking pictures and smile without reservation in social situations. 
"In June 2021 I went to Angela for teeth whitening. Here we are in December and I still get compliments on how white my teeth are."
What to Expect at Teeth Whitening Appointment
Cosmetic teeth whitening is not a surgical procedure. With teeth whitening, you have nothing to worry about, experiencing little to no sensitivity. Angela will take the time to listen to what you're looking for, answering any questions you may have along the way. Next, Angela will work with you to determine how many sessions would be best for your needs. Angela will provide you with everything you need for teeth whitening after care, too.
"Stellar experience with Angela! She is so kind, knowledgeable and professional. I've been putting off having my teeth whitened for years due to painful sensitivity! But the natural teeth whitening process Angela did with me had zero painful sensitivity and I LOVE the results!"
Before You Arrive to Your Teeth Whitening Appointment
Try to eat before your appointment.
Prepare yourself to not be on your phone.
Hydrate your lips with A&D, aquaphor, or vaseline.
You will be on a "white diet" for 24-48 hours after your appointment, be sure to stock your fridge.
Use sensodyne toothpaste to prevent any sensitivity that may occur. 
Teeth Whitening Aftercare Instructions
Remain on a white diet, the pores in your enamel remain open for this long and take to any color placed.
Continue using the sensodyne toothpaste to keep any sensitivity away.
Use straws with beverages.
Stay away from fruit juices, candies, tomato based sauces, and sports drinks.
Angela is the Trusted Expert for Teeth Whitening near Syracuse, NY, Answering Any of Your Questions
Angela is a licensed and experienced cosmetic teeth whitening professional. Complimentary consultations are available in person or over the phone.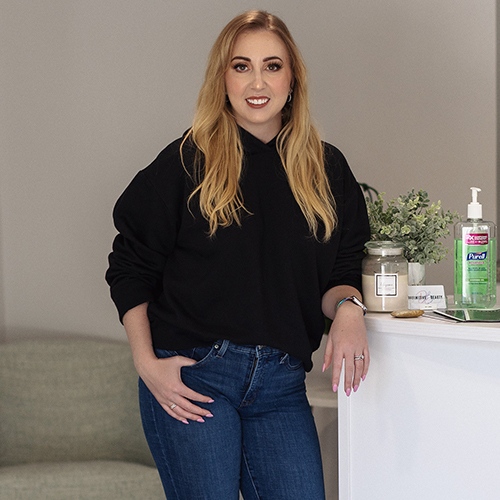 Frequently Asked Questions About Teeth Whitening
A Bright, Beautiful Smile Starts with Teeth Whitening